You are here:
Integrations
Integrations
Use the Integrations menu to manage various Integrations settings, such as the self-service Learn Single Sign-On (SSO) functionality, If you have a custom SSO solution set up by our Services team, you may be directed to this menu by Oracle Taleo Learn Cloud to enter the URL for login redirect after a session time out. You can also indicate Akamai® and SmartOrg settings using this menu.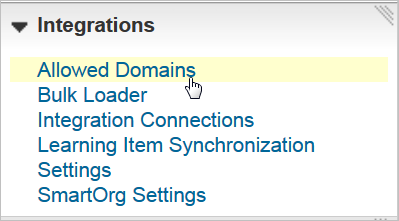 The items you see on this menu depend on what setup your LearnCenter has. For example, if you are set up for SmartOrg, you will have a SmartOrg Settings option on this menu. If you are using Akamai®, you will see an Akamai option here.
Other options include Allowed Domains, which is used with the Widget Portability - BETA feature, Bulk Loader, and Learning Item Synchronization settings, which are used with integrations between LearnCenter and other Oracle Taleo products.

Related Topics

Copyright © 2010-2018, Oracle and/or its affiliates. All rights reserved.